What's there to say about me? Well…
I'm a software engineer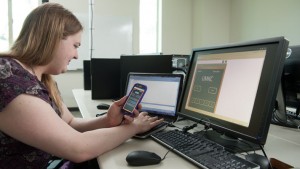 I learned to program in BASIC on my Commodore 64 when I was a kid in the 80s. It felt super fun to type in commands and have the computer do the actions. And I guess it stuck as I grew up and became a software engineer! Over time I've come to love all aspects of the software creation process, and love constantly learning. It's made it extremely hard to pick a specialty, so I've made it my specialty to be a great problem solver no matter what language, framework, or tech stack is thrown at me!
I love the intersection of where people and technology meet
I fell in love with software development when I learned to code, but I've realized software isn't about the code, it's about the people. Users. Developers. People use the software we create, and there's power there that needs to be carefully considered. The more time goes on, the more important I'm finding it is to consider accessibility, usability, ethics, and inclusively in our software. I love meeting people and chatting about technology. I also love being involved with and leading technical communities.
I'm a tech conference speaker
What started out as accidentally becoming an undergrad teaching assistant teaching programming to other undergrads at my university evolved over seven years to become an international tech conference speaker. I've had people say my talks made them laugh and cry at the same time. It's been about 60 presentations later and I can definitely say it's been a wild journey!
I'm a hardware and robot tinkerer
I took my first digital circuitry class in the spring of 2003 and learned how to use AND, OR, NOT, and other logic gates to make LEDs blink on a breadboard, and eventually resulted in me building a 4-bit calculator from scratch. Over time, I've helped build and program about six robots as well as a variety of assorted hardware or IoT projects. I also have mentored several middle and high school students in robotics competition teams, and even two of them made their way to the world championships!
I'm a conference organizer
If speaking at conferences wasn't enough, I was asked to join the conference organizing team for a regional tech conference for women in computing in 2012. Six conferences later and I'm now the Director of Programming for Abstractions Conference, a 2000-person conference located in Pittsburgh, PA.
I'm a user of 100% organic sarcasm and puns
I don't remember when I realized I have a magical talent for saying about anything with a straight face, but it's helped me be able to say some silly off-the-wall things in the most serious way. I also learned that I have a talent of not just saying puns, but really letting out some great groan-worthy ones. My record is a pun war that lasted an hour and a half.